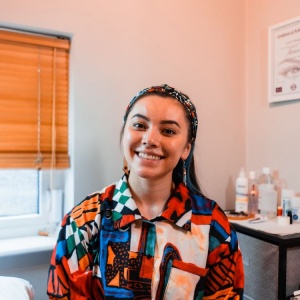 Opening my business in 2019 was one of the most exciting times of my life and now that I am a first time mother to a beautiful little boy I am continuing the adventure.
I re-opened my business in May 2023 and my services range from eyelash extensions, lash lifts, semi-permanent makeup along with areola and nipple tattooing for those who have lost their breasts/nipples to breast cancer or for those who are unhappy with the colour or size of their nipples and want a change.
A bit about me. I started doing lashes back in 2019 and I continued to do them ever since. I did take a break from 2022-2023 because I was going travelling and I was meant to be moving abroad but I found out I was pregnant with my little boy so back to Ireland we came!
It was back in November 2022 after he was born that I decided I wanted to train in Areola tattooing once and for all since I was meant to complete the training earlier in 2022 but I decided against it because I was meant to be moving away! So off I went and completed the training. I adore everything to do with areola and semi-permanent makeup! 
Lashes will always be close to my heart but I am delighted to have begun my journey into the paramedical field of areola tattooing while continuing to grow my semi-permanent makeup passion too.
I specialise in powder and nano brows, lip blush, eyeliner, eyelash extensions, lash lifts and areola tattooing.
Based in Wexford town in the sunny South-East of Ireland. 
I look forward to welcoming you into our salon.
Leah x